Ozzy Man Reviews: Oscars Fuck Up 2017
Me critical analysis of that beautifully humane fuck up at the oscars over best picture. La La Land or Moonlight for the academy award!? Source video here: https://streamable.com/fitup
Fair Dealing – parody, satire, commentary, criticism.
By Ozzy Man Editor in Chief On
You may also like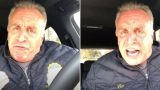 17.14K Views0 Comments
There's no doubt we're living in some pretty dodgy times. Don't get us wrong. We're spoiled rotten with technology and a pretty f**ken solid way of life in general, but with bloody Covid-19 still f**king entire countr...