This bloke was banned from Tinder after creating 60 profiles, here's his best work
I know there's a lot of shelia's out there complaining they can't find a decent bloke. The nice guys might have been friend zoned already, and the a**hole ones you've already f**ked off and now ya single again.
Meanwhile ya f**ken Aunty Sharon wont stop askin' at Sunday dinner when you're getting hitched and havin' one of those snot nosed little carpet grubs.
F**k off and mind ya own business would ya Sharon?
Anyway, if you've been unlucky in love, have I got a f**ken treat for you girls!!
Meet Jake. A handsome devil who's on a f**ken mission to find a shelia for adult relations. So determined in fact, he's had over 60 Tinder profiles and they are funny as f**k.
Check these out his Tinder profiles that have the chicks lining up for a look see at Jake the Snake.
Clearly a lover of sports and gambling, he's a regular red blooded male, who enjoys long walks to the pub for a pint and some tunes.
And when you've had a hard day you can enjoy winding down with this handsome f**ken specimen, who loves relaxing and watchin' a flick on the telly.
Our boy Jake is not just out for some cheap f**ken laughs though, he also keeps up with pop culture and general social trends… Line up ladies! He's clever AND funny as f**k!
And if seeing that massive f**ken sperm and egg has got ya a bit clucky and hot, Jake proves he's deadset father material.
And last but not least, you should know that Jake is plannin' on winning the Lotto so he can travel with you all over the world, this bloke is a generous c**t I tell ya!
Now what happens when a bloke is just trying to get on with his love life and get any sheila to swipe right? The whole f**ken internet's got an opinion and cheers him along on his quest for the ultimate gobby.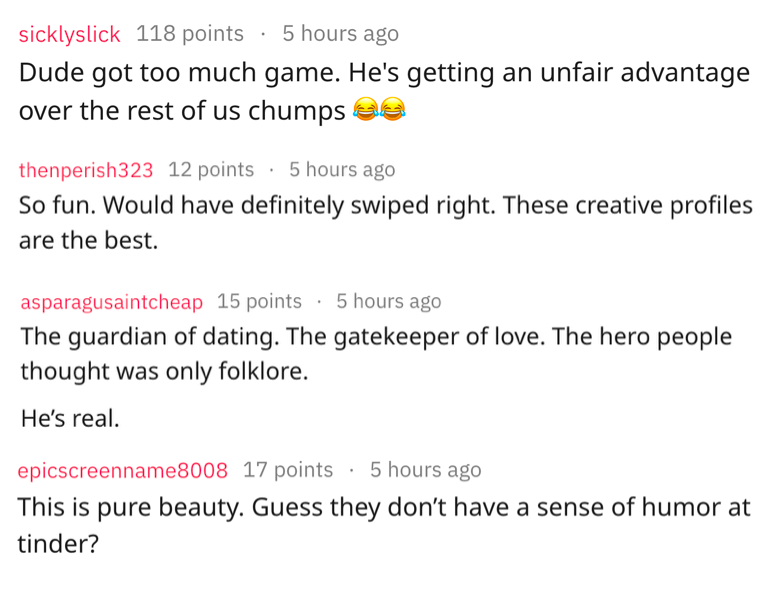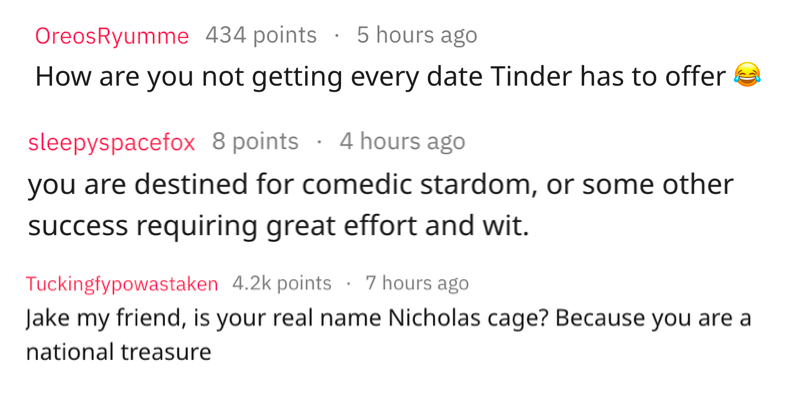 We don't know if Jakes creativity on Tinder has gotten him laid yet, but we do know he's been banned for creating over 60 profiles. Never mind Jakey, here's a f**ken new business idea. Legend, this bloke!

Final Thought: F**k you Tinder for stifling this young bloke as he endeavours to line up a never ending supply of the ol' rumpy pumpy! Your whole f**ken app was built on people trying to match there ding-dongs with hoo-haas and now you're s**tin on Jake's parade. You should be ashamed for f**ks sake.
And if Tinder hasn't given ya enough of this larakin, check out his Instagram… He might appreciate ya slidin' into his DM's hahaha
H/T : woke sloth.com