WATCH: The First Ever "No Touch" KO In Professional MMA History
Ever been watching a fight and thought one of the guys looked like a gust of strong wind might topple them over? Unfortunately for one young Australian fighter, it looks like a strong wind might have gotten the best of him.
This bizarre scene took place on an XFC card in Australia back in November of 2016 at XFC28 during a fight between two middleweights, James Vake and Michael McDaniel.
There have been some insane knockouts over the course of the short history of mixed martial arts, but none have quite compared to this one. Sitting at a record of 0 wins and 4 losses, Michael "Gods Warrior" McDaniel was looking to come in and put on a show against James Vake from NZ Top Team, and would hopefully be taking home his first win in the process. Unfortunately, God had other plans for his warrior.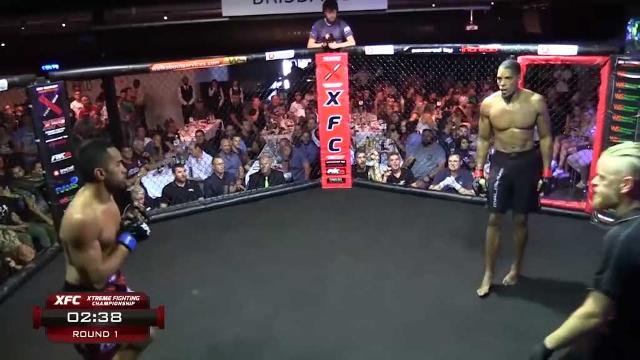 The fight started off with some decent work. Vake ended up getting backed up to the cage fence and eating a few heavy leg kicks in the opening part of round one, before getting teed off on against the cage. Vake eventually managed to get McDaniels to the ground, and quickly took back control, sinking in a rear naked choke that was perfectly set under the chin of McDaniels. Fighting for his life, McDaniels managed to escape the choke and then had to work extremely hard to unlock the body triangle Vake had locked up on him.
Exploding and spinning into Vake's guard, McDaniels managed to escape an armbar attempt before landing some ground and pound on Vake. Motioning for Vake to stand up, McDaniels backed away nonchalantly… before suddenly collapsing flat on the ground, eyes rolling into the back of his head. McDaniels didn't walk away with a loss, however, with the fight being ruled a no contest.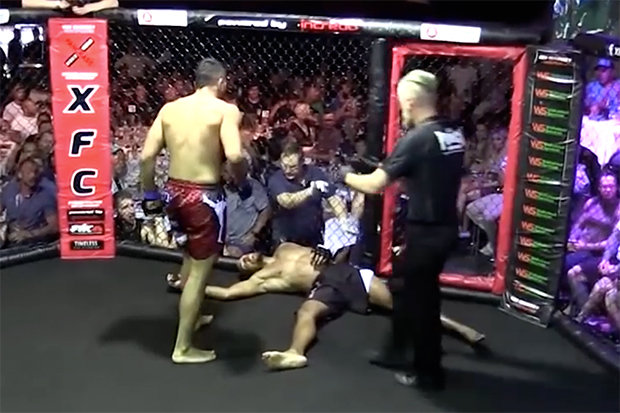 Check out the absolutely insane scene below: