Ozzy Man Reviews: Trump's Handshake Wars
Me commentary on Trumpster's handshake domination.
By Ozzy Man Editor in Chief On
You may also like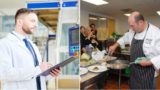 14.90K Views0 Comments
Let's be honest, we all love eating out. Seriously, if you get it right, it tastes great, there's no clean-up and you can always chuck in a cheeky beer as well. But, the flip-side of that is that there's nothing worse...