The One Armed Woman Who's Tinder Account Went Viral Social Media Game Is FIRE!
Nobody gives less fu*ks than Lauren Duck and that's what we bloody love about her!
Just over a year ago, the 20-year-old San Diego native was involved in a horrific motor accident and as a result, had to have her arm amputated.
"I lost it in a moped accident going way too fast," Lauren said in a recent interview with HuffPost. "I lost control and my wheel swung into the median. I flew off and hit a street sign that sliced my arm clean off."
Lauren could have bled out and died right there and then but as luck would have it, an off-duty police officer was on the scene and rushed to her rescue. Amazingly, the copper had just finished his tourniquet training and was able to help save her life.
"I asked if I was going to die and he said I wouldn't," she recalled.
After her arm was surgically removed, Lauza turned to her "decent amount of followers" on Twitter for support. She started posting sh*t like this…
so i found my dog twin named thor pic.twitter.com/tGP6MkkL2g

— lauren duck (@DuckFanAccount) May 9, 2017
even as a child I knew I'd lose my fuckin arm pic.twitter.com/iYIlBQHHGy

— lauren duck (@DuckFanAccount) August 23, 2016
i was in the ocean and this lil kids like "what happened to ur arm" and i told him it was a shark and he ran out and has yet to get back in

— lauren duck (@DuckFanAccount) July 21, 2017
Unsurprisingly, the response from the Internet was overwhelmingly supportive.
"[It] showed me that people still found me beautiful and missing an arm didn't make me less of a person," she said.
Recently, Lauz decided to change her Tinder bio.
Twitter user, @memesg0d, came across it and posted a screenshot to Twitter. It quickly went viral, receiving over 60,000 likes and 15,000 retweets.
"I'm getting a lot of matches and super likes because of it, but I just use it for fun," she said. "I don't have any interest in meeting anyone."
What kind of fella is the lovely Lauren looking for, you ask? Someone with a wicked sense of humour but doesn't talk about her lack of arm all the bloody time, it seems.
"I'm looking for someone with the same type of humour and doesn't take themselves too seriously," she said. "That's really all that's important to me, someone who is still respectful about my situation and doesn't assume I want to talk about my arm just because I make some jokes about it. Personality goes a long way."
In honour of Lauren the Legend, we've put together a little compilation of some of her best pics and funniest tweets. Enjoy!
Oh, and it's worth mentioning: Lauren is working her arse off in order to save up for a prosthetic arm, but they are expensive as hell. You can help her out at her GoFundMe page. So far, she's raised $33k and is on the way to her $50k goal. If you've got a few spare bucks floating about, why not chuck 'em her way…
people always compare me to soul surfer but i have no skills and i don't care about jesus

— lauren duck (@DuckFanAccount) September 12, 2017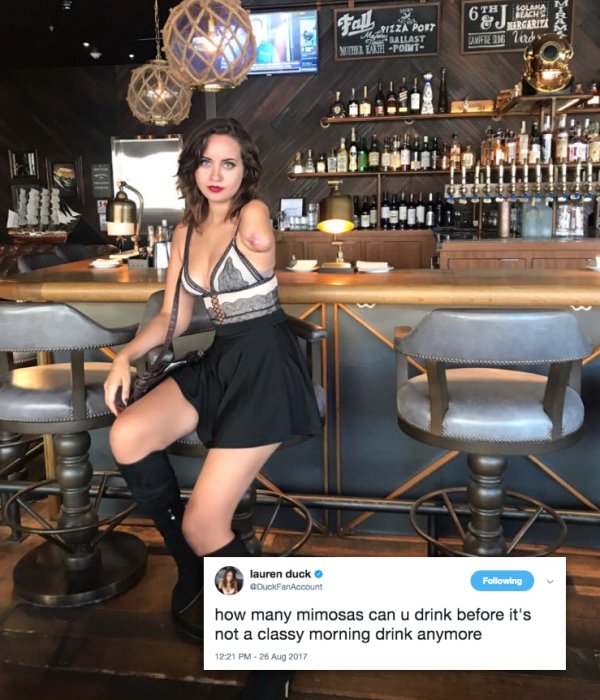 i like to mute porn and just imagine what they're all saying

— lauren duck (@DuckFanAccount) September 3, 2017