Ozzy Man and Mozza: Drunkest Guy Ever
Me mate Mozza and I commentate the drunkest guy ever trying to buy more beer. Bloody intense shit.
Unedited 11 minute source video is here: https://youtu.be/Z2XeVs4wqdE
Music:
Hans Zimmer – The Rock Main Theme
Fair Dealing – parody, satire, commentary, review.
By Ozzy Man Editor in Chief On
You may also like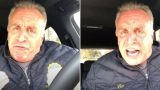 17.15K Views0 Comments
There's no doubt we're living in some pretty dodgy times. Don't get us wrong. We're spoiled rotten with technology and a pretty f**ken solid way of life in general, but with bloody Covid-19 still f**king entire countr...