Ozzy Man and Mozza: Drunkest Guy Ever
Me mate Mozza and I commentate the drunkest guy ever trying to buy more beer. Bloody intense shit.
Unedited 11 minute source video is here: https://youtu.be/Z2XeVs4wqdE
Music:
Hans Zimmer – The Rock Main Theme
Fair Dealing – parody, satire, commentary, review.
By Ozzy Man Editor in Chief On
You may also like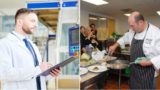 14.86K Views0 Comments
Let's be honest, we all love eating out. Seriously, if you get it right, it tastes great, there's no clean-up and you can always chuck in a cheeky beer as well. But, the flip-side of that is that there's nothing worse...