Cyclone Leaves Australian Street Looking Like The Set Of Sharknado
Even if you're not from Australia, you probably know we have a ton of deadly creatures down here just waiting to get their fangs, claws, beaks and teeth sunk into the people unlucky enough to come across them.
Most of those things have buggered off with Cyclone Debbie bearing down heavily on our northern state of Queensland, but that doesn't seem to have deterred this bull shark from making "Sharknado" into a real life occurrence!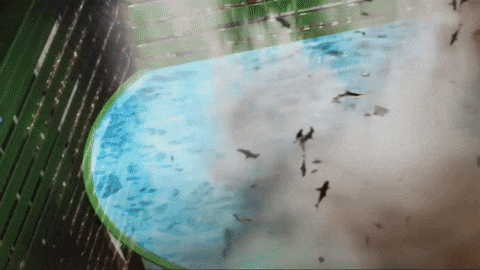 Locals in the town of Ayr in Queensland have found a shark in the middle of the street after flood waters receded following the week-long storm. Images of the mud covered bull shark were shared by the Queensland Fire and Emergency Services Facebook page, with the caption "Think it's safe to go back in the water? Think again!"
That said, I won't be going outside in a cyclone now, not for fear of the storm itself, but because of my debilitating fear of getting bitten by a goddamned bull shark.
Bull sharks are found in rivers, lakes and around beaches all over Australia, with reporter Philip Calder telling the Brisbane Times that the local Burdekin river was "full of bull sharks" and that locals "never go swimming in it," for fear of being taken by one of them.
According to an Instagram user who also took a photo of the shark, SES towed the shark back to the river "but it was too late".
#Sharknado. Locals at #Ayr sadly discover another of the untold thousands of marine and land animals that were victims of #CycloneDebbie pic.twitter.com/tMf2WBomQH

— Marcus Middleton (@MMiddleton_10) March 30, 2017
Bull sharks can survive in fresh and salt water and tend to hang around the openings to shallow waters, which inevitably leads to some pretty frequent interactions with humans. Bull sharks are one of the most aggressive sharks in the world, but that didn't stop some brave locals from walking up to the shark before they knew it was definitely dead! Ranked third by number of attacks in the ISAF records it is believed that many of the bull sharks attacks go unreported as they occur in the third world.
Some apparently enterprising young locals took a knife and "souvenired a tooth from it." Pretty gnarly stuff, as you can expect from the folks up in Queensland!