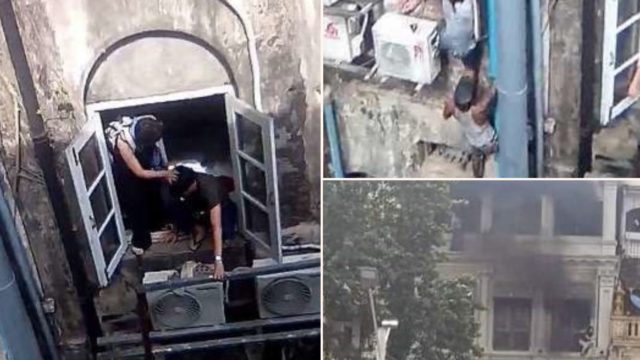 Real life Spiderman scales burning building to save trapped sheila
Is your spider-sense tingling? Are you ready for a taste of true heroism? Today's video features a Burmese legend Peter-Parkering his way up a three-story building to save the poor sheila trapped inside. Chuck has the review…
Myanmar. Burma. Whatever you wanna call it, there's no denying it's a country accustomed to the pitfalls of war and controversy. You might think that in those circumstances life is cheap, tragedy is common and people look out for number one. If you did, you'd be mistaken.
Pyae Nway was going about his business on what must have begun as a regular day in Yangon when he heard the terrified screams of a damsel in distress. Like any true legend, Pyae sprang into action.
The cry had come from a burning colonial building where flames had rampaged through and gutted the interior, trapping dozens of people inside.
Pyae, who has since been dubbed the Spider-Man for his efforts, realised the screams were coming from the third floor of the building. The f**ken trooper wasted no time at all. He climbed up a down-pipe on the exterior of the building and rescued the woman from a dire fate.
Footage of the ballsy rescue has been posted online, and it's safe to say that it paints Pyae in a bloody heroic light.
Of course, like all true defenders of life, Pyae was modest about his exploits.
He told local media he 'heard people shouting "I'm going to jump, I'm going to jump" so I climbed up to help.'
Recognising that although some were able to avoid immolation by scampering to safety, not everyone would be able to and if he waited for emergency services, people would die; he took matters into his own capable hands.
'I didn't think there was time to wait for the fire brigade,' he said.' The woman's life was at risk. I just did what was needed to make sure she was safe.'
Final thought: Stories like this always make my day. Here you have some bloke risking his own skin to save the life of a total stranger. It's bloody inspiring stuff. On top of that, Myanmar's had a pretty tough run of things lately, and a good news story like this has to do a little bit to raise morale there. F**ken good on ya, Pyae. You're the very definition of a hero.
Good sh**.
H/T: Daily Mail.