Bloke Who Survived Severe Burns Now Rocks This Awesome Costume At Parties
Everyone loves a feel good story.
And here on Ozzy Man Reviews we love giving you the kind of story that makes you sit up, say "f*** yes, what a champion, someone buy that bloke a beer!"  And this story is all about them feels…
Check out this bloody legend! Ladies and gentleman, Freddie f***ing Beeson.
One fateful day in Cheshire, this top top bloke was getting a bit of a backyard bonfire ready when he looked over at a drum of oil and thought, 'that's the ticket. That's going to get my fire raging like it's 1999 and the motherf***ng roof is on fire!'
Unfortunately, some total dipsh*t had put petrol in it and when Freddie got near the fire, the unthinkable happened. F***ing whoosh! Freddie's on fire, his mum's screaming, his skin's melting and at the one time of his life he was literally on fire, he was cooler than a bloody Antarctic winter.
"Mum," he says. "Grab the rug and put me out." How's that for calm under pressure?  Wait for this then: a few minutes later, he's waiting for the ambulance, skin hanging off, while he smokes a f***ing dart. Why do I have the feeling he lit it with his own flames?
So where's the feel good bit? I hear you ask. Well, a short time later, after almost dying during one of the thirty operations he's had to endure, he's come out the other side with the nickname 'Crispy' and he wears a Freddy Krueger mask to parties.
The way he tells it, he'll be rocking the mask, sans bloody shirt, dudes'll be crying because he's so inspirational, chicks who dig scars will undoubtedly be feeling a little weak at the knees and he'll be like, 'yeah, nah, it's no biggie. My name's Crispy and humour will save your bloody life.'
Nowadays, he's training to become a HGV driver despite having a finger removed and losing most of the muscles in his hand!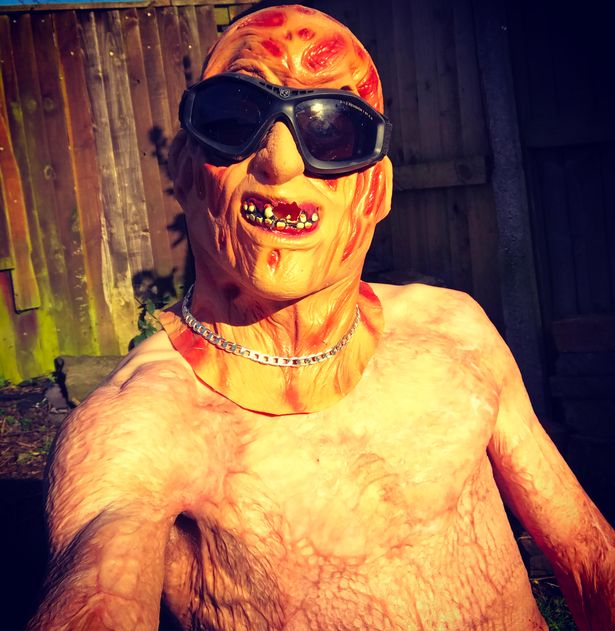 Freddie 'Crispy' Beeson. You sir, are a top top bloke, a f***ing legend, and someone should buy you a beer!