Ozzy Man Reviews: Seal With Big Dreams
Me commentary on an epic moment from BBC's The Hunt. 100% fair dinkum brilliant viewing experience that doco.
Fair Dealing – parody, satire, shit stirring.
By Ozzy Man Editor in Chief On March 14, 2017
You may also like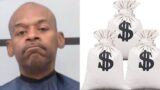 4.29K Views0 Comments
Mate, one of the things you've gotta love – even if it's completely immoral and it all goes pear-shaped – is the desire of the human spirit to be a cheeky c**t. Yeah, nah, don't get us wrong, doing criminal s**t sucks...