Ozzy Man Reviews: Seal With Big Dreams
Me commentary on an epic moment from BBC's The Hunt. 100% fair dinkum brilliant viewing experience that doco.
Fair Dealing – parody, satire, shit stirring.
By Ozzy Man Editor in Chief On
You may also like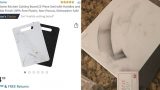 30.31K Views0 Comments
When it comes to culinary delights, we know there are more than a fair few of you out there in the comments section who love a bit of sausage. Deadset, from what we hear some of you aren't picky at all. Kabana, knackw...