Ozzy Man Reviews: Bunny vs Dogs
Me commentary on some dodgy dogs vs a rabbit.
By Ozzy Man Editor in Chief On March 14, 2017
You may also like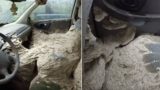 25 Views0 Comments
Once again, we're finding ourselves looking at the natural world here on Ozzy Man Reviews. We bloody love it – and we know you do too – so it's always worth a visit. Particularly when we get to have a good bloody squi...