Ozzy Man Reviews: When Animals Fight Back
Me commentary of when animals fight back and have bloody had enough. (Bit of an oldie that was uploaded to FB earlier in the year, worth having here too). Cheers!
By Ozzy Man Editor in Chief On
You may also like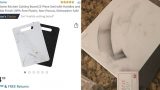 30.38K Views0 Comments
When it comes to culinary delights, we know there are more than a fair few of you out there in the comments section who love a bit of sausage. Deadset, from what we hear some of you aren't picky at all. Kabana, knackw...