5D "Adult cinema" opens in Amsterdam, complete with air cannons, water jets and more
It seems that in the world of movies, people in Hollywood are always tryna one-up each other, like bigger explosions, faster car chases, more dangerous stunts and realistic CGI. The entertainment industry means big bikkies, and everyone's gotta stay on the top of their game to make their dough.
But it's not just the mainstream blockbusters that are looking to make bank, it's a brave new world when it comes to adult entertainment too. Hold onto ya f**ken hats my friends the future is here. Not happy with the regular skin flicks and worn out VHS tapes, a 5D cinema in Amsterdam is givin' us a new experience, complete with water jets, air cannons and bouncing seats. 
The cinema has six screenings a day, and seats 18 people per session. The owner of the new cinema said that the movie had been made specifically for the cinema in conjunction with Porn Star Kim Holland.
Owner Natalie told the Dutch Review:
Have you been to an amusement park? it's kind of like that, we are really satisfied with it.
I can tell ya now Natalie, that does not sound one bit like f**ken Luna Park or Sea World. Maybe she means Wet 'N' Wild?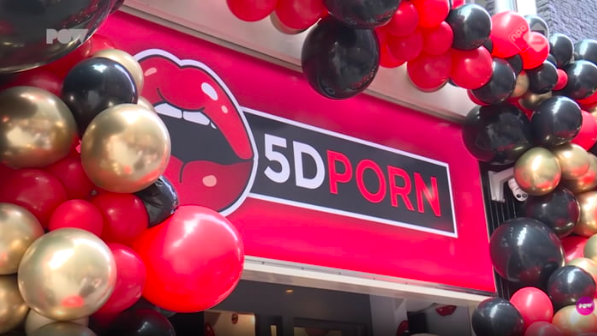 Finding a young tourist in Amsterdam that isn't lookin' for porn, pot or both, would be as rare as rockin' horse s**t, but owner Natalie reckons that's not their target market anyway. She said:
5D porn is a good date spot. We are definitely not just going after tourists for our audience. It's funny because in Amsterdam even the Dutch people have an interest in breaking free from the norm. Come with your wife, have a laugh, try something different.
My thoughts are with the bloody staff…. Can ya imagine? "Clean up on Aisle 5" hahaha
The crew at that joint would be busier than a barefoot centipede on a BBQ plate. Poor bastards.
So ya got sight, sound, feel & movement spelled out there on the promo poster… What's the other D? Is it smell? Oh f**k no, I don't wanna smell ass and bodily fluids surrounded by a bunch of strangers! Or are these the 5 senses I'm talking about yeah?
And can ya still get a choc top from the canteen? Or is it all lube, dildos and Dettol wipes?
I'm so bloody confused, this story has literally gone through to the keeper.
Final Thought:
Maybe the 5th D stands for D**k. Am I gonna get turkey slapped by a stranger in the dark? For f**ks sake.  Yeah, nah. I've got too many unanswered questions about this. I might be a traditionalist, but I'll stick to watchin' pornos online in the comfort of me own home like a normal pervert I reckon.
H/T: 9GAG