Ukrainan Warehouse Packed With Weapons Explodes, Missiles Fly Everywhere
A munitions factory and warehouse in Ukraine is suspected to have been sabotaged, with footage being captured of heavy duty artillery, ammunition and even missiles flying out of the airspace and exploding.
Early reports had suggested that only "Two wounded people were taken to the hospital," as a result of the explosions.
Subsequent reports have since confirmed that five people were injured in the blasts, three of whom remain in hospital. Tragically, the head of Ukraine's emergency service also confirmed a fatality from the incident yesterday: "The body of a woman born in 1951 was recovered from under the debris of a collapsed house."
Massive plumes of smoke have caused people within a 10km radius of the blast zone to be evacuated. The airspace in a 40km (24mile) radius around the arms depot has also been closed, the deputy infrastructure minister Yuriy Lavrenyuk wrote on Facebook.
It would certainly suck if this event was the result of some jerks deciding they'd like to send a munitions factory sky high although authorities are speculating an 'explosive device' may have been dropped on the depot by a drone.
The factory and its surrounding area itself covers more than 350 hectares and is used to store about 138, 000 tons ammunition for guns, surface to air missile launchers and other forms of heavy artillery. The factory sits just 100km from the frontlines of the battle between Ukraine and Russian-funded separatists.
Defence Minister Stepan Poltorak certainly has his work cut out for him in the next few days. He believes that the Russian military or separatists acting on Russia's behalf set off the explosions at the warehouse.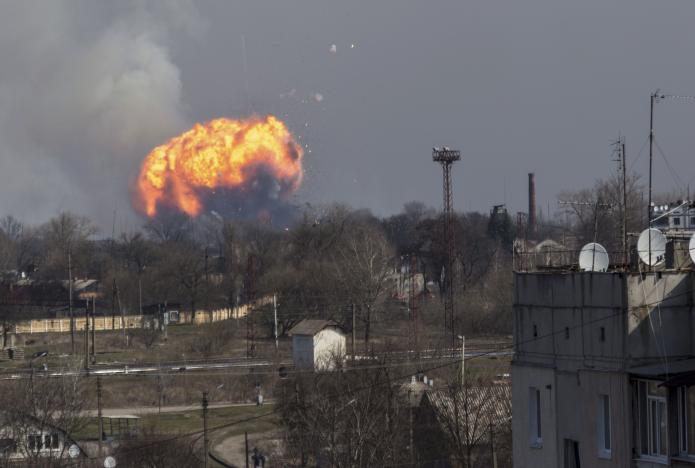 Some of the 1000 workers guarding the factory are reported to have heard the sound of an aircraft overhead, leading to rumors the factory may have been bombed by a passing fighter jet.
Russia has denied any involvement as expected, which may lead you to wonder how a factory so strategically key to Ukraine's success against the separatist movement could just spontaneously combust…
Check out incredible footage of the massive explosions below: