Airbnb Host Pushes Guest Down The Stairs After Late Checkout
In what appears to be a racially motivated incident, a South African filmmaker has been flung down a flight of stairs by a disgruntled Airbnb host in Amsterdam.
A video which has since been uploaded to Instagram and circulated around the world shows filmmaker Sibhale Nkumbi descending a flight of stairs being ushered out with force by a male.
As the video begins, she is heard arguing with the man who is grabbing at her semi-packed luggage in a bid to get them out of the house quickly.
Then as he ushers her forcefully, she resists and stumbles, but the man pushes again and then she flies down the stairs knocking each one as she goes.
In slapstick comedy, someone falling down stairs can be quite hilarious, but in real life, it is bloody terrifying. With no way of stopping your momentum, gravity ploughs your full bodyweight into the points of each step. Bruises, dislocations, head trauma and broken bones are common injuries associated with stair falling.
In an interview, Nkumbi said the hosts had called them "you people" and said "you are not the queen you think you are… this is not Africa.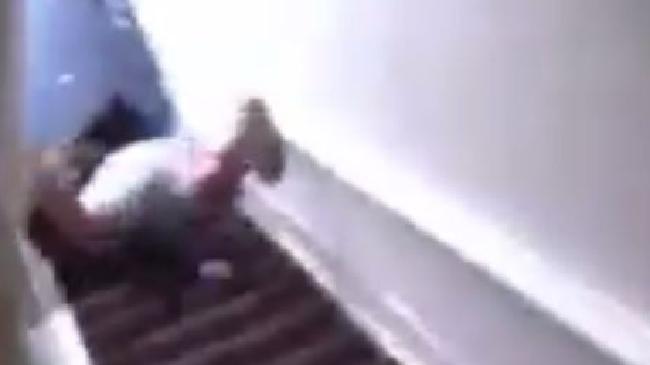 "Any person of colour that reads this and has witnessed racist attacks you know when it happens to you,"
Prior to the footage, reportedly, a female landlady of the Airbnb property had knocked on the door after check out time to attempt to remove the guests. The occupants apologetically began to pack up, but a man returned to the room to forcibly remove them.
Airbnb's David King has branded the incident as "appalling" and added "[it is] unconscionable behaviour against members of our community runs counter to everything Airbnb stands for. Our CEO Brian Chesky and I are reaching out to the affected guests. We will take the strongest actions we can against such abhorrent conduct, including banning people for life from our platform and assisting law enforcement with their investigation and potential prosecution."
See the brutality unfold in the below video.
H/T: LADBible