Ozzy Man Reviews: Trump's Handshake Wars
Me commentary on Trumpster's handshake domination.
By Ozzy Man Writer at Ozzyman | Editor in Chief On March 14, 2017
You may also like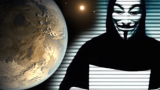 13 Views0 Comments
It's the existential question that many of us ponder on a regular basis – Are we alone in the universe? It wasn't until 1992 that we confirmed the existence of planets outside our own solar, but the question of whethe...