Ozzy Man Reviews: Oscars Fuck Up 2017
Me critical analysis of that beautifully humane fuck up at the oscars over best picture. La La Land or Moonlight for the academy award!? Source video here: https://streamable.com/fitup
Fair Dealing – parody, satire, commentary, criticism.
By Ozzy Man Writer at Ozzyman | Editor in Chief On March 14, 2017
You may also like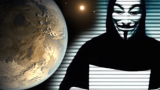 13 Views0 Comments
It's the existential question that many of us ponder on a regular basis – Are we alone in the universe? It wasn't until 1992 that we confirmed the existence of planets outside our own solar, but the question of whethe...